Russ Kovach is a resident of Harford County, Maryland and is an Earth Science and Biology teacher at C. Milton Wright High School. He's been birding since he was a high school student himself in 1989. Russ is a former president of the Harford County Bird Club, coordinates the Elkton Christmas Bird Count, and guides many birding trips in the mid-Atlantic region for the Maryland Ornithological Society and the Delmarva Birding Weekend. When not birding Russ enjoys photography, canoeing, and coaching softball, in addition to giving presentations to local organizations about climate change and environmental awareness.
---
Scott Housten, a resident of Ocean City, Maryland, has been birding in Worcester County and Maryland's Eastern Shore for over 20 years. As an avid traveler, he has spent many years birding in Central America and Southeast Asia. Scott has lead birding tours in Worcester County for the Delmarva Birding Weekend and in Cape Charles, Virginia, for the annual Eastern Shore of Virginia Birding & Wildlife Festival. He has also guided birding and wildlife tours in El Salvador. Scott is a frequent contributor to the Maryland Biodiversity Project, contributing over 1,700 photos of birds and insects to the project database. In addition to birding, Scott enjoys traveling, archaeology, and lucha libre wrestling.
---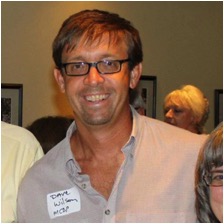 Dave Wilson spent 18 years (1997-2015) working for the Maryland Coastal Bays Program—the first 10 as their public relations guru and the past eight as the Executive Director of this National Estuary Program, based in Ocean City, Md. As director, Wilson helped put nature tourism and wildlife front and center by securing funding for a variety of nature parks and trails including 1,000 acres of new county nature parks and the conversion of the Ocean City dump to a kayak launch. Wilson was named Tourism Person of the Year in Worcester County in 2005. Adept at navigating local, state, and federal governments, Wilson helped protect more than 10,000 acres of forests and farms and instituted colonial nesting bird, terrapin, seal, and amphibian monitoring. His penchant for bringing together diverse factions helped finish the Bishopville Dam restoration, set in motion a US Army Corps of Engineers island restoration program, and create a new Comprehensive Conservation and Management Plan for the Coastal Bays. Wilson loves playing ultimate Frisbee, cycling, kayaking and birding all over the world. He holds a BS from Penn State University and MA from Boston College. He lives in Berlin with his wife, Keota, a professor in the Geography Department at Salisbury University. In 2015 he formed Conservation Community Consulting, LLC to help promote conservation and nature tourism.
---
Jim Rapp currently serves as director of the Hazel Outdoor Discovery Center. Prior to holding this post, he was the director of the Salisbury Zoo for 14 years before being tapped in 2007 as the director of Delmarva Low Impact Tourism Experiences, a business-sponsored nature tourism outfit created to entice tourists with hiking, biking, cycling and birding trails and events it helped spawn. Rapp is the past president of the Wicomico Environmental Trust, Lower Eastern Shore Heritage Council, Assateague Coastal Trust and Nanticoke Watershed Alliance. Rapp was named Tourism Person of the Year in both Wicomico and Worcester counties in 2004 and 2006 respectively.